"Work From Home – ISO Bag Limited Offer"

With so many people working from home there has never been a better time to complete those jobs you've been putting off  for so long. Jumbocorp has a limited offer to help you with your DIY projects or that general clean up  you've been putting off for years. Introducing the ISO Bag!
*Limited offer collections to be made by the end of May 2020
The Jumbocorp unique 1 cubic metre ISO Bag is not currently offered to the market.
This rectangular ISO bag is 1.3m long x 78cm wide x 1m high.
Perfect for household rubbish; general light builder's waste. For a full disclosure of the ISO Bag content please read our Terms of Service.
Purchase your ISO Bag & Collection


Order a 1 cube ISO Bag & Pre-pay your Collection
Iso bags are directly delivered to your door within X business days.

Fill your ISO Bag
Fill your ISO Bag up to black perimeter line (do not overfill)  and book your collection online when your ISO Bag is full.

Rubbish Collection
A friendly Jumbocorp team member will organise a collection & the Jumbo truck will pick up your full ISO Bag.
ISO Bag Benefits
With a unique approach we offer you a solution that is tailored to your needs.
No permits required

Delivered to your door, one call and is gone

Convenience – use the bag when you are ready

Fill the ISO bag when you are ready (no additional hire charges unlike skips)

Fixed Price fro ISO bag delivery and collection

Can be utilised in small areas and tight spaces
* If you have larger volumes of waste please contact Natalie Mitchell at 0439 816 135 for quote tailored to your needs.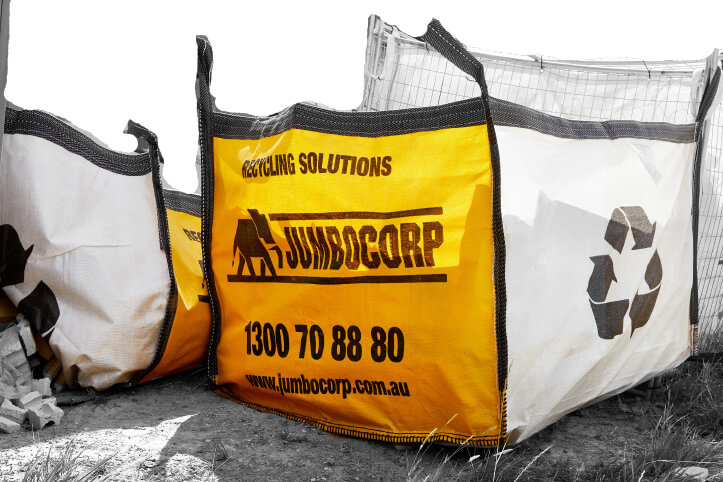 Get Started Today
Buy your ISO Bag for a limited time only.

WE PROVIDE JUMBOBAGS, THE DISPOSABLE SKIPS, TO LEADING BUILDERS, DEVELOPERS AND MULTI-NATIONALS.